Professor Harold Halliday (Harry) Rea, MD, FRACP.
DOB: 18/04/1946
Position: Centre.
1979-Quebec and ex-Ireland fly-half Harry Rea kicks ahead in the game against Ontario, which Quebec won 16-15.
Professor Harry Rea is the Academic Head of Medicine, South Auckland Clinical School, University of Auckland, New Zealand he is also co-ordinator for the Northern Region COPD Advisory Group, Middlemore Hospital. Auckland. He played around 50 to 60 games for London Irish between 1972-1974
He started playing rugby whilst at the Belfast Royal Academy in 1958, he started off as a scrum-half but then moved to the centre. He played and captained North of Ireland RFC (now Belfast Harlequins) before joining London Irish. He also played around 15 games for Ulster and was Captain a couple of times.
He joined London Irish after moving to London for a medical training job at St. Stephen's Hospital on the Fulham Road. He shared a flat with his old NIFC team mate Ken Kennedy. His brother Richard was also at London Irish, and became captain.
Although training was optional during his time at Irish the player/coach was ex-All-Black W.A.(Tony) Davies. He considers the best players at London Irish in the 2 seasons he played there were Mick Molloy, Barry Breshnihan, Ken Kennedy, Pat Lavery and his brother-Richard Rea (who is an ex-London Irish Captain). In the early seventies the hardest teams to play against where London Welsh, Northampton and Coventry". He says "London Irish was a marvellous institution, I was lucky to have two seasons in very good LI sides"
Harry won 2 international caps for Ireland, the first was 21st January 1967 when Ireland beat Australia 15-8 at Lansdowne Road, while the second was 25th January 1969 when France where the visitors. Ireland won 17-9 (with another LI old boy Johnny Moroney scoring 14 points). He says "Standing in a green jersey for the National Anthem in front of 50,000 people at Lansdowne Road was a fantastic experience". He found out he was playing when he received a telephone call whilst at University in Edinburgh to say he was to come in to replace the injured Jerry Walsh in the starting line-up.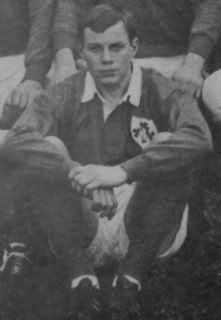 From the Ireland v Australia squad picture
When asked about what memories he had playing for Ireland he replied "We beat Australia 1967 and I played in the side that beat France at Lansdowne Road in 1969---memories are few - as it all seemed to go so fast--but fantastic--the whole event/ week-end was such an extraordinary experience for a naive young student--luxury of the hotel and formal dinner with the opposition--formal speeches ,songs at the dinner and then dance" .
The Ireland coach at the time was Ronnie Dawson. Harry says there was "no pre-game training except Thursday run and light session together on the Friday morning".
He left London Irish in 1974, his leaving party was mentioned in October's issue of Rugby World:
'London Irish will miss the services of the ex-Ireland and Ulster Centre, Harry Rea, who has taken up a doctor's practice near Auckland, New Zealand. Before coming to work at a London Hospital two years ago (when he joined London Irish), Harry had played for Scottish Universities and Edinburgh University along with his brother Richard, last year's London Irish captain. He will be especially missed by London Irish, who have already lost Lions' and Ireland centre Barry Bresnihan, who with Rea has proved the mainspring of the side's back division during the last two seasons. Among those present at Rea's send off were two All Blacks, Chris Laidlaw and Tony Davies. The latter played for London Irish two years ago'.
He played 2 years of senior rugby for Auckland University, he said "Very physical game here--marked Byran Williams in my first game here".
http://www.rugbymuseum.co.nz/ABProfilee ... C&IDID=954
He carried on playing rugby until 1984, during that time he took a New Zealand Oldies side on a tour of Ireland.
Harry last attended a London Irish game in 1982, but still watches rugby. He says of the modern centre "I was 70 kg when I played for Ireland --now to be a centre it seems you need to be 100 kg and play like a wing forward!" If he could have played with a modern player it would be Stephen Larkham, He prefers that rugby of 10 years ago, as he feels it was a better game then. If he could he would like to change the rules on high tackling and the so called "clearing out at the ruck!"
He wouldn't have turned professional if it had happened in the 1970's as he could not have combined professional rugby with his career his medicine."I am rather cynical about the development of professional rugby--a grumpy old man.I am concerned about the commercial game "using"the old traditions for marketing purposes---I think cricket has made the transition better".
He also managed to play for Quebec whilst at McGill University in Montreal.
His medical career to date is:
Clinical Research McGill Univ Montreal
Consultant Respiratory Medicine Greenlane Hospital Auckland
Major Research activity in Respiratory Physiology/Epidemiology and now health care delivery---Chronic Care Management
Professor of Medicine School of Medicine
University of Auckland --based at Middlemore Hospital
Professor Harry Rea has been appointed acting head of the South Auckland Clinical School. Harry has worked for many years at Middlemore Hospital in both an academic and clinical capacity, and his leadership will be critical during our discussions with the CMDHB about strategic directions for the School.
His Ireland record can be found at:
http://statistics.scrum.com/rugby_stats_05.asp?ID=IRE1