The Fields ... A Simple Folk Song?
On Five Live this morning, Nicky Campbell tried his best to portray the 'Fields of Athenry' as a song for Irish Republicans or a song for those who preach sectarianism, using the fact that Glasgow Celtic supporters sing the song as evidence. He pressed the interviewee on whether they thought that an old Republican song sung at a football ground in Glasgow was acceptable, but it got me thinking that he was mis-representing the song and that those listening to him who do not know the song or its lyrics might be swayed with the argument we hear occassionally that London Irish supporters should not sing it. It could cause offense, couldn't it? To whom, Glasgow Rangers supporters? Harlequins supporters?
Let's be plain, "The Fields .." is a simple folk song and could be about anyone from Ireland, Scotland, Wales or England. It happens to be about an Irish couple during the famine.
Pete St John wrote:It is about poor innocent people and how they are victims of natural disasters. It's easy to see why it's been so popular in Glasgow because in 1846, the year the song's set, over 150,000 Irishmen, women, and children fled to the city where many were treated with generosity. But I've heard the song sung everywhere from San Francisco to Melbourne.
The words of the song go back to a broadsheet ballad published in 1880, though the author of the song as sung at the Madejski Stadium is Pete St John who wrote the popular or modern form of the song in 1979. There are a reported 400 cover versions of the song, including a reggae version by the Century Steel Band and one by fashionable punk band the Dropkick Murphys and it tells the story of Lord Trevelyan who imported corn from America during the potato famine of the mid-nineteenth century. The corn however is thought to have been useless for milling as it was Indian Corn, but local people believed it would save them from starvation, so broke into the stores and having been arrested and tried were deported to Australia. The hero of the song is lamenting his plight as he awaits the long trip to the penal colonies.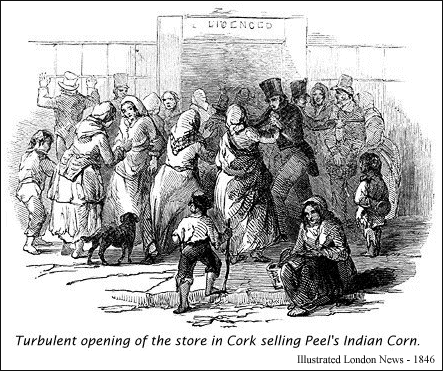 The song is based on actual events of the famine, when Prime Minister Peel in England assigned a civil servant, Charles Edward Trevelyan as Lord Lieutenant of Ireland to oversea relief operations in Ireland. Trevelyan visited Ireland only once according to reports during the famine and even then went no further than Dublin. The corn from America was bought by Peel without the agreement of his Tory government, but being Indian corn it needed to be ground twice to be suitable for use in 'corn meal'. A lack of mills in Ireland and not enough corn (only £100,000 worth was imported) meant that the relief operation failed.
Original broadsheet lyrics wrote:By a lonely prison wall
I heard a sweet voice calling,
'Oh Danny, they have taken you away.
for you stole Travelian's corn,
that your babes might see the dawn,
now a prison ship lies waiting in the bay.'

chorus
Fair lie the fields of Athenry
where we stood to watch the small freebirds fly.
Our love grew with the spring,
we had dreams and songs to sing
as we wandered through the fields of Athenry.

I heard a young man calling
'nothing matters, Jenny, when your'e free
'gainst the famine and the crown,
I rebelled, they ran me down,
now you must raise our children without me.'

On the windswept harbour wall,
she watched the last star rising
as the prison ship sailed out accross the sky
But she will watch and hope and pray,
for her love in Botany bay
whilst she is lonely in the fields of Athenry

So why is it that people often seem to mistake this song as an 'anti-English' song when there are probably hundreds of famine songs and poems? There is one line that potentially could be slightly contentious and that is "against the famine and the crown", but as an Englishman, I see nothing at all wrong with that line. I'd wage a fair sum of money that if I'd been alive in Yorkshire in 1846 that I would have had more in common with the starving in Ireland than with Peel and Trevelyan and other 'servants' of the British crown.
Now I'm no expert but I have a few CDs in my collection that could be classed as folk but anyone who listens to any amount of folk music knows that a large proportion of folk songs have a common theme, that of the plight of common people against those in a position of power or authority. Folk songs are often based on tales of insurrection, insubordination and class struggles and to me "The Fields ..." just follows that tradition.
The singing of the "Fields of Athenry" by Celtic supporters (or John Hartson and Stephen Pearson) does not make it sectarian and the singing of that same song by London Irish supporters does not make it anti-English (especially since many of the voices attempting to find the tune will be English). In 1996, the song was condemned by Gerry McNee a football commentator in Glasgow as being used by Celtic supporters for sectarian reasons to wind up Rangers supporters. Pete St John was shocked by the news that McNee had called for the song to be banned:
Pete St John wrote:I was delighted when I heard the song was being sung in Parkhead and when I heard they wanted to ban it I thought it was a joke. I've never met Gerry McNee but there is nothing in the song that is at all sectarian. I've been involved in the peace movement both here and in America. I'm not into pulling a stunt like that.
So, is that sectarian badge about to be pinned on the song again following the Hartson and Pearson investigation (they were supposedly caught on video singing 'The Fields ...' while others chanted IRA slogans in the background) and now Nicky Campbell linking it with sectarianism? I hope not. Currently there aren't many up to date reports that I can find about the Hartson/Pearson incident though the last one I found suggested that the footage was real but the sloganising had been dubbed over the top. We'll have to wait and see I suppose.
Anyway, I'm off to listen to some The Men They Couldn't Hang ("If I starved on the streets of Bristol, I starved worse on a British ship"), Oysterband ("They defied the landlords, They defied the law, They were the dispossessed, Reclaiming what was theirs") or Chumbawamba ("It's a long walk to the gallows, It's a small step to swing free, The crying in the tower, For my conspirators and me").