Robin John Kieren Hardwick needs little introduction, La laa as he is affectionately known left London Irish on St. Valentines day 2006. He is currently helping to train a new generation of Forwards for Richmond up the other end of the A316 at the Athletic Ground. He kindly answered my questions:
With his Powergen Cup Winners Medal
What is your date of birth/place of birth?
29/03/1969 Kenilworth
When/where did you start to play rugby?
At my senior school Coundon Court Comprehensive 1980
Have you always played as a prop?
No I first played centre and number 8
When did join London Irish and how many games did you play?
I joined in '98 the centenary season and have played 167 games for the club
How many points did you score in your London Irish days?
3 glorious try's
What brought you to London Irish (on both occasions)?
The first time I came Coventry had gone into liqidation and my agent told me of London Irish's interest and Dick Best had just taken over and he was very keen on bringing me to the club. The second time was a mixture of being homesick, wanting to be back in the premiership and closer to family
What was the training like?
With Dick it was always interesting!!!!
Who did you room with on away matches?
Mike Worsley, a great roomy quiet tidy and easy going
Who was your most difficult opponent whilst at Irish?
It was always fun playing Leicester
Which ground did you prefer to play on Sunbury, The Stoop or The Madjeski?
SUNBURY nowhere had an atmosphere to come close
What was your favourite away ground?
Stade Toulousain in club rugby it doesn't get better
What was your most memorable game for Irish and why?
Cup final , what a day, what a great team, what great support
Who do you consider was the best player you played with for London Irish and why?
So many great players. Jarrod Cunningham sublime skills, Ryan Strudwick big heart, massive clubman to name 2 of many
Who where the characters at London Irish in your time playing?
Jimmy 'Lecock' Cockle and probably the biggest was Dick Best
Do you still keep in contact with any of your old team mates?
I still live in Sunbury and keep in touch with the guys past & present
Dick Best is renowned as a hard task master in your opinion was this true?
Dick would either make or break you enough said
How different were the coaching methods of Dick Best, Brendan Venter and Gary Gold?
Dick worked in a way to make you mentally strong, Brendan worked towards a massive team ethic where everyone knew exactly what to do, and Gary was passionate about rugby and I feel he has had a lot of negative comments during and after his time at Irish which if you look deeper he had no money to bring players to the club at a time when the club wanted to try and break even and as a result left with a squad not as strong as squads that had gone before
In your opinion which season had the strongest team?
The cup final team will always be top you cannot argue with teams that win trophies
What are your memories of the Cup Final?
Great build up in training total belief and then getting huge blisters because of the heat ten minutes into the game
Do you miss playing for Irish?
No I had a good run playing senior rugby since 1987 till 2006 but your body has the last word and it is nice not feeling like your body has been in a car crash everyday
When was the last time you attended a London Irish match?
The match against Parma in the European Shield last season
Do you have any favourite stories from your Irish days?
No comment
What are your lasting memories of London Irish?
Being tortured by Dick Best, Matt Dawson and Budge Poutney arguing on the pitch in the cup final and seeing my boys Will, Tom and Robin stripped down to their pants with tubigrip (that was nicked from the physio room) on their knees and elbows pretending to the rock the undertaker and other WWE wrestlers in the wives area of the Madejski
What other clubs have you played for?
Coventry, La Rochelle
How much of a culture shock was it arriving at London Irish after being at Coventry?
There was no culture shock as both clubs have great values, great history and great supporters
How different was the standard of rugby in France compared to the Premiership?
It was different but now is fairly similar the teams would win at home but not bother away from home
What were the major differences between La Rochelle and London Irish?
La Rochelle; on the coast, holiday destination, wine, great food, is there any comparison? Sorry
How did it feel to play for England?
The greatest feeling next to the birth of your children
How did Coventry RFC celebrate/commemorate this occasion?
Got smashed
You went on tour with England to Argentina in 1997 what are your memories of the tour?
Beef ,beef, beef and pretty girls
Did you win any honours (Barbarians/Trial/County/International etc)?
England 1 cap, England 'A' twenty odd caps, 3 caps for the baa baas
Who was your biggest influence on your rugby playing career?
Tommy Hutchison former Coventry City footballer in the seventies he was my first hero, Peter Rossborough former Coventry and England fullback + the wife and kids who are my harshest critics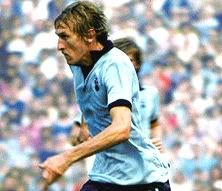 Tommy Hutchinson – Sky Blue Legend
What was your profession before playing rugby?
Computer engineer
Do you feel that today's rugby players play too much rugby?
No but they train too much it is an endless line of pumped up bodybuilders who play with very little skill ,too much braun too little brain, if anyone saw Jonathon Davies play in the flesh will know what I mean the man was worth the admission fee pure class
Are there any rules that you would like to see changed?
I would change wheeling the scrum laws as it favours the opposition too much and I would go back to only 2 subs like the old days now that would be interesting
Do you think that the English Premiership should ring-fenced?
The Premiership should never be ring fenced the same old greedy individuals talk the same c*** any club should have the right to dream of playing at the top level
You are now a Senior Men's Coach at Richmond, is that a full time post?
Part – time
If not what else are you doing?
I'm ducking & diving
How good is the standard of Rugby at Richmond?
The standard is good and the guys are keen to learn
What do you prefer coaching or playing?
After consulting my body 'coaching'
Is there a player at Richmond that we should keep an eye out for?
Francois Van Schalkwyk or Rohan Stehyl
Are you still wearing the shin pad on your arm (during training)?
No
What tip would you give a youngster who wants to be a rugby player?
Be a footballer-golfer-tennis pro-cricketer-racing driver- and if all else fails try rugby. But seriously listen to mum & dad
Where do you see yourself in 10 years?
As long as my family is with me I don't mind