Doctor T. Peter Enevoldson
Peter Enevoldson replaced Les White (of Munster beating the All-Blacks fame) as London Irish's first choice tight-head prop. Doctor Enevoldson holds a long standing record that is probably never going to be broken, he playing over 100 games for Oxford University and also played in 5 Varsity matches. He was Captain when Oxford beat Cambridge 9-3 in the 1979 game.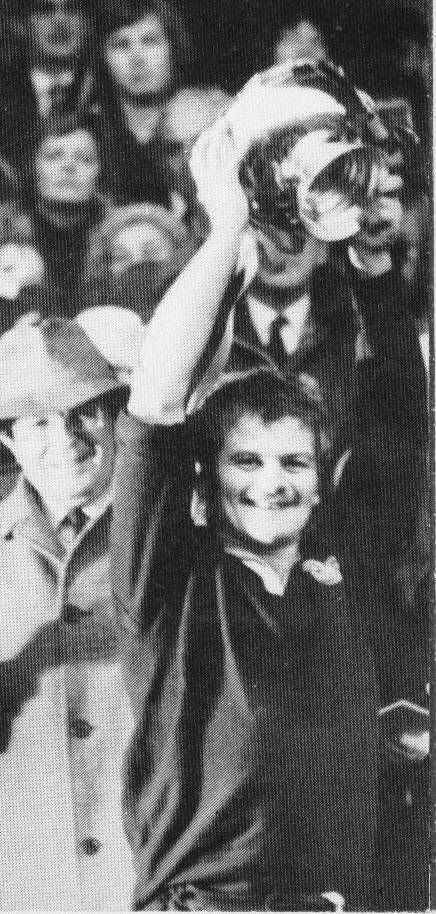 Lifting the Bowring Cup 1979
Now a Medical Director in Liverpool, he took some time to answer my questions:
What is your date of birth/ place of birth?
2/1/57 Hexham, Northumberland
When/where did you start to play rugby?
Aged 10, Royal Grammar School, Newcastle-upon-Tyne
Have you always played Prop?
Yes
When did join London Irish and how many games did you play?
1981; unknown
How many points did you score in your London Irish days?
I can only remember a couple of tries, both 70 yards side-stepping runs!
What brought you to London Irish?
The coach, Pat Parfrey
Who was the coach?
Pat Parfrey
Who was the Captain?
Michael Smythe
What was the training like?
Variable. Good when Parfrey was there
Who was your most difficult opponent?
Alex ?Newbury, the loose-head who was playing for the Geese at that time was the most difficult scrummager. Paul Rendall of Wasps was the best I played against in anger
What was Sunbury like in your time playing there?
Wet and muddy
What was your favourite away ground?
None in particular
Who do you consider was the best player you played with for London Irish?
John O'Driscoll in the back row
Who where the characters at London Irish in your time playing?
Mike Smythe, Geno McCarthy, Pat Parfrey.
Do you still keep in contact with any of your old team mates?
Guy Beringer, the hooker
How good was the London Irish side you played in? (or) Which season had the strongest team?
We were the top side in London for two of the three years (till Parfrey left). We were unbeaten until just before Xmas one year
The professional London Irish team is no longer a team for Irish/ Irish descent players, what are your feelings about this?
I think I would be hypocritical to answer this!
Do you miss playing for London Irish?
It was certainly a remarkable experience, with some very good memories!
Do you have a favourite story from your playing days?
Michael Smythe "charming" my mother
Did you go on any overseas tours with London Irish?
Canada ?1981or 82
1981
How difficult was it for London Irish to put out a XV on Inter-provincial weekends?
Certainly weakened
Did you play for any other clubs?
I gave up serious rugby after qualifying as a doctor in my last year at Irish. I played a few social games for St. Mary's Hospital B team, and the Kew Occasionals but nothing regular.
You went to Oxford University, how many Varsity matches did you play in?
I played over 100 games (?108, not sure, but a record) for Oxford, including five Varsity Matches
You where the Captain for the 1980 match how did it feel to lift the Bowring Bowl?
Actually, captain in 1979 (when we won, hence lifted Bowring Bowl) and in 1980 (when we lost)
Which one was your favourite?
1979
How different was playing for Oxford compared with London Irish?
Completely different. Lighter and younger pack, struggling for possession. Off the field, even more different!
Who was your most difficult opponent?
No one in particular
Did you play County rugby if so who for?
Surrey, Northumberland. Also England B team v Ireland B 1982, Final England Trial 1983, England Students captain
Who was your biggest influence on your rugby playing career?
My brother, Nigel, who was also a tight-head prop.
When did you stop playing?
1984
Do you still watch rugby?
On some internationals on the TV
Are you still involved in rugby?
No
When was the last time you attended a London Irish match?
1984
Has your old position changed since you played?
Very much. Scrummaging very different, much higher and more regulated
Which modern day player would you have liked to play with?
Martin Johnson
Do you prefer the rugby of today or when you played?
No
What is your occupation?
Consultant Neurologist, and now Medical Director at the hospital where I work
Can you give a brief resume of your career?
Qualified as doctor at St Mary's Hospital in London in 1984. Junior doctor jobs in Newcastle, before doing specialist neurologist training in Newcastle and various hospitals in London before getting a consultant post in Liverpool in 1993. Married 1993. Two daughters, aged 11 and nearly 7.