Doctor Pat (Padraic Seosamh) Parfrey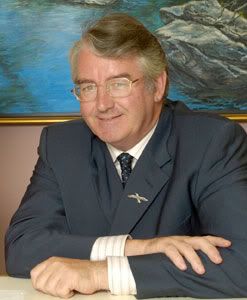 Doctor Pat Parfrey was the coach who lead London Irish to the club's first ever Cup Final in 1980. He left London Irish in 1982 and moved to Montreal, where he coached Montreal Irish. He then become coach of the Canadian National side and led them to the 1999 Rugby World Cup. He also led Canada to victory in the Pacific Rim championship in 1997 and 1998. He later became the President of the Canadian RFU, and is still a Director.
He is an Associate Dean of Clinical Research in the Faculty of Medicine at Memorial University in St John's, Newfoundland. He received the Canada Institute of Health Research Distinguished Scientist Award in 2000 and the Medal for Research Excellence from the Kidney Foundation of Canada in 2002.In 2004 whilst still President of the RFU he was made an officer of the Order of Canada by the Governor General. In 2005 he was awarded by the University College Cork, an Alumni Achievement Award, the annual UCC Alumni Achievement Awards Program honours graduates who have obtained extraordinary distinction and success in their chosen fields.
Last year he coached the Newfoundland Rock team and won the Rugby Canada Super League (RCSL) making it the first ever team from Newfoundland to win it.
He kindly spent some time answering some of my questions:
What is your date of birth/place of birth?
12 Aug 1950
When/where did you start to play rugby?
At 13 years of age at CBC in Cork
What position did you play?
Outhalf/centre/wing
When did join London Irish and how many games did you play?
1976 and played until 1981. Player Coach from 1977 -1982
How many points did you score in your London Irish days?
No idea
What brought you to London Irish?
Training in Medicine
Who were the coach(es)?
I was from 1977 onwards,with Ken Kennedy in 1976
Who was your most difficult opponent?
Mike Gibson Ulster
What was Sunbury like in your time playing there?
Very enjoyable
What was your favourite away ground?
Wasps because we usually had good games
Who do you consider was the best player you played with for London Irish?
John O'Driscoll
Who where the characters at London Irish in your time playing?
Mike Smythe, Walter Jones, in his quiet way ,Mick Molloy
Do you still keep in contact with any of your old team mates?
Yes
How did it feel to be the man who coached London Irish that reached the Cup Final?
It was a reward for a team that had played consistently well for several years
How good was that side?
Second best in England at the time, behind the great Leicester team of the early eighties
The professional London Irish team is no longer a team for Irish/ Irish descent players, what are your feelings about this?
I would like to keep the Irish character of the team even while non Irish players play
Do you miss playing for London Irish?
Absolutely--playing with LI was a pleasure and the players were friends
If rugby had turned professional in your time playing would you have turned Pro?
No
Did you go on any overseas tours with London Irish?
France, Canada
How difficult was it for London Irish to put out a XV on Inter-provincial weekends?
Not too difficult because once players left Ireland they were rejected by their provinces usually
Did you ever play Inter-provincial rugby one day and for LI the next?
No but I would have
How many games did you play for Munster?
All games from 1970 -1977
Did you play in any famous games?
Tied with All Blacks 3-3, in 1973
How different was playing for Munster compared to London Irish?
LI was a club team and had a club atmosphere, whereas Munster was a rep team that played about 4 times per year
You played for Ireland v the All Blacks what are your memories of that day?
Happy to have finished the game as I was carrying a groin injury
When did you move to Canada?
1982
How did you get involved with Canadian rugby?
Played with Montreal Irish from 1983 - 4, Coached Newfoundland from 1985 onwards
When did you stop playing?
I retired in 1985
How did it feel to coach the Canada team in RWC 1999?
IT was a pleasure to coach Canadians who were tough, proud and great friends. My greatest disappointment was losing to Fiji having taken a good early lead
In your opinion how good is the quality of club rugby in Canada?
It is improving but the talent is spread too thinly. There are several excellent teams who are at Div 1 Ireland standard, when they have all their players
How important is the staging of some of the Churchill Cup games in Canada?
This tournament is critical competition for Canada, as they have substantially fewer quality games than players in the Foundation countries
How good is the current Canadian National side?
Improving and this year will probably be better than it's world ranking(14)
Who is the player that we should keep an eye on?
Arron Carpenter
Aaron Carpenter
Did you play for any other clubs?
UCC, Montreal Irish, Swilers (Newfoundland)
Did you play County rugby if so who for?
Middlesex
Did you win any other honours (Inter Pro/County/International/Exiles/Barbarians etc.)
Munster Cup with UCC(1976) County Championship with Middlesex, Canadian National Championships 2005 with the Newfoundland Rock as coach
Who was your biggest influence on your rugby playing career?
Tom Kiernan
When was the last time you attended a London Irish match?
Easter 2006 v Leeds
Do you get to watch much European rugby?
Just 6 Nations
Has your old position changed since you played?
Not really ,the game is more complex and faster, but it is still based on catching the ball, making tackles ,winning rucks and having discipline
Which modern day player would you have liked to play with?
The Munster pack
Do you prefer the rugby of today or when you played?
It is substantially more attractive now, ball in play more ,better discipline and refereeing, rules more conducive to continuity
Ireland record:
23 Nov 1974

Ireland 6

v New Zealand 15, Lansdowne Road.
Newfoundland Rock Rugby:
http://www.rockrugby.ca/index.html