Clive Meanwell
Doctor Clive A. Meanwell, M.D., Ph.D. is the man that put London Irish into the John Player Cup final in 1980. His two penalties in the 6-6 draw away to Rosslyn Park was enough under the rules in place at the time, to put London Irish through (there was no extra time, sudden death or replays). He now lives in the United States and took time to answer my questions:
What is your date of birth/place of birth?
8th May 1957 – Louth
When/where did you start to play rugby?
At grammar school
What position did you play?
Center and fly-half
On the wing for Irish
When did join London Irish and how many games did you play?
1979 - don't know how many games, but I was there for 3 seasons
How many points did you score in your London Irish days?
Don't know. Not enough.
What brought you to London Irish?
Pat Parfrey and the progressive atmosphere among players
Who were the coach?
Pat Parfrey
Who was the Captain?
John O'Driscoll - a great man
What was the training like?
Well organized, moderate emphasis on fitness and strength, much more on technique, tactics and strategy.
Who was your most difficult opponent?
Gerald Davies - even though he was in the twilight of his career
What was Sunbury like in your time playing there?
Single large stand, friendly atmosphere, fierce crack
What was your favourite away ground?
Cardiff Arms Park
Who do you consider was the best player you played with for London Irish?
Alistair McKibbin
Who where the characters at London Irish in your time playing?
Mick Smythe beyond all others
Do you still keep in contact with any of your old team mates?
No, more is the pity - they were a terrific bunch
How did it feel to be the man who put London Irish into the Cup Final?
I was pretty much speechless after the Rosslyn Park semi-final in 1980
You played in the 1980 Cup Final, what are your memories of that day?
I'd played with Les Cusworth and Dusty Hare when I lived in the Midlands before coming to London Irish. They kicked us off the park, but we scored the only try. Leicester's much-vaunted midfield was pretty much neutralized by ours and their pack was slower. But in the end they got more points on the board. Credit to them
How good was the London Irish side you played in?(or) Which season had the strongest team?
The 1980 team dominated the London Merit Table, got to the John Player cup final and ended the season very high in the national merit tables of the day. Those results speak for themselves I think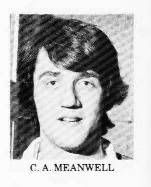 The professional London Irish team is no longer a team for Irish/ Irish descent players, what are your feelings about this?
As long as they are 100% committed to the green shirt they wear I am fine with it. How could you not be?
Do you miss playing for London Irish?
You bet
Do you have a favourite story from your playing days?
Stu McKinney taking care of me when opposition forwards tried to beat me up to stop me kicking goals
If rugby had turned professional in your time playing would you have turned Pro?
If I was good enough, sure I would have. What a priviledge!
Did you go on any overseas tours with London Irish?
No, I don't think my liver would have made it home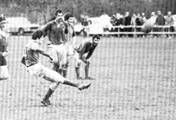 How difficult was it for London Irish to put out a XV on Inter-provincial weekends?
We lost 5-7 players on those days, but we had 10 teams then and the second XV "Flying Geese" were very talented and any one of them could step up if needed
Did you ever play Inter-provincial rugby one day and for LI the next?
No
Did you play for any other clubs?
Yes - Moseley and Coventry. I think I played for Cov. one day against LI - and I was made captain for the day. It wasn't the same. My first allegiance was always to the green
Did you play County rugby if so who for?
North Midlands - won County Championship in 1977-8 if I recall correctly
How different was County rugby compared to playing for London Irish?
Not dramatic - LI was playing a very high level in those days. County rugby gave me chance to play with different players which was a way to learn from them
Who was your biggest influence on your rugby playing career?
Malcolm Hall of Old Dixonians - he was captain of an old boys club in Birmingham where I grew up. He encouraged me to step up.
When did you stop playing?
1985 when my medical duties became overwhelming
Do you still watch rugby?
Yes - via satellite TV from the US where we now live
Are you still involved in rugby?
Yes - but only in mini rugby
When was the last time you attended a London Irish match?
Probably the last time I played at Sunbury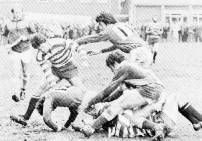 Wearing the 11 shirt
Has your old position changed since you played?
Yes - the wingers and full backs are stronger, faster, smarter, better. The top goal kickers are divine. Must be the practice.
Which modern day player would you have liked to play with?
Any of the current Irish international back-line. They can be astonishing individually and collectively.
Do you prefer the rugby of today or when you played?
Today - its better by miles
Are there any rules you would like to see changed?
No - just the usual smart evolution of the game as we make it better and better
What is your occupation?
I am Chairman and Chief Executive of a pharmaceutical company and on the Board of several life-science firms
Can you give a brief resume of your career?
I left London Irish in 1982 just before I came out of medical school. I then did 6 years as a doc, focussing on cancer treatments mainly. In the late 80's I went into full time research and joined a large drug company in Switzerland. Ten years later I moved to the US and started a private equity investment firm ("venture capital"). We launched some companies, one of which I now run. I live with my American wife and two children, based just outside New York.