I have updated a couple from last year and added some more:
Acting Squadron Leader Peter Morrice de Mestre DFC,DSO
Born in 1917 at Bishops Canning in Wiltshire and educated at Cheltenham College. On 4th March 1939 he was commissioned as an acting Pilot Officer in the Royal Air Force. After a mission to attack the oil tanks at Bordeaux in August 1940 he received the Distinguished Flying Cross.
The citation from the London Gazette dated 24th September 1940:
This officer was captain of an aircraft detailed to attack the oil tanks of Bordeaux one night in August 1940. On his first run over the target at 2000 feet his aircraft and one engine were severely damaged by anti-aircraft fire, and the glare from search lights prevented his bombs being dropped with accuracy. In spite of the serious condition of his aircraft, and the continuous gunfire, he made a second attack and dropped his bombs with success. On the return flight with his wireless smashed, the damaged engine failed whilst over France, but with splendid determination he managed to cross the sea and made a forced landing on the English coast without causing injury to his crew. Pilot Officer De Mestre has many times pressed home his attacks on the enemy with equal courage and determination.
On the day of the attack Peter De Mestre was flying for No.61 Squadron in a Handley Page Hampden, he had flown it from Lincolnshire and the target was a large oil depot in Bordeaux, quite some way. At the time it was usual practice for aircraft to make their own way to a target. When he arrived at the target in Bordeaux he thought that he was the first to arrive, he circled his aircraft over the area to identify the target then dived down to attack it. Unfortunately his aircraft was the last to arrive, and the Germans were waiting. When he reached 2000 feet, his aircraft was caught in the beam of a searchlight and the anti-aircraft guns attacked. One shot damaged the aircraft's radio and some instruments. A shell exploded in front of the port wing, damaging the engine with shrapnel. Peter De Mestre still managed to complete his bombing run and dropped his bombs into the depot. The crew decided to head for home, rather than a short flight to Spain (where they would have been interned). Whilst heading north over France, the damaged engine cut out. As the aircraft was flying over Normandy the remaining engine started to splutter. While it was over the English Channel the remaining engine failed. Peter De Mestre managed to glide his damaged aircraft to a deserted English beach where he performed a crash-landing. All the crew managed to get out of the aircraft uninjured. A local Home Guard pounced on then concerned that they where German agents reconnoitring a possible landing point for a invasion. The airmen returned to base the next day.
In 1941 he transferred from No.44 Squadron. He was awarded the Distinguished Service Order in May 1942 for numerous attacks with No.49 Squadron on enemy targets varying from factories in Germany to supply ships.
On 3 different occasions he flew his severely damaged aircraft back to the U.K.
His award of the Distinguished Service Order made the Australian Press:
The Argus (Melbourne) 27th May 1942
AIR OFFICER WINS DSO
Acting Sqd-Ldr Peter Morrice de Mestre has been awarded DSO for having dropped a 2,000lb bomb on a German factory. He is a son of the late Etienne de Mestre, well-known trainer and owner of Mossvale (NSW). De Mestre won the DFC for his part in a raid on Brest.
He was awarded the Backs Honours Tie for the 1938-39 season and also played for the Surrey Wanderers.
During the night of the 6/7th June 1942 No 49 Squadron were detailed for a raid to Emden. The Avro Manchester L7469 he was flying was lost. It was one of two loses for No 49 Squadron that night. On the 7th of June, at 00.20 hrs Oberleutnant Ludwig Becker of 6./NJG2 claimed L7469 as an 'Abschuss' (shot down – an aerial victory). Point of attack was at an altitude of 3,500 meters, 20km's NW of Borkum (an island off the north Dutch/German coast), L7469 crashed into the North Sea.
Squadron Leader L P.M. De Mestre DSO,DFC
(Runnymede)
Sergeant Albert Francis Buttel (RAAF)
(Sage War Cemetery)
Pilot Officer Ronald Henry James Thorndyke (RAFVR)
(Runnymede)
Sergeant George Clive Whitfield (RAFVR)
(Sage War Cemetery)
Sergeant Douglas Stephen Halliday (RAFVR)
(Sage War Cemetery)
Sergeant Lewis James Jones (RAFVR)
(Runnymede)
Flight Sergeant Maxwell Elliot Whitehill (RAAF)
(Sage War Cemetery)
Four of the crew are buried at Sage Cemetery, S/L P M De Mestre DSO, DFC (CO of 'A' Flight), P/O R H J Thorndyke and Sgt L J Jones were never found and are posted as 'Missing in Action' and presumed dead later in the year.
Runnymede RAF Memorial (Panel 65).
Big thanks to the enquiry team of No.49 Squadron especially Ed, Alan & Colin
http://www.bomberhistory.co.uk/49squadr ... 0Menu.html
A letter from his mother can be found at:
Letter to Mrs Whitfield
Group Captain Francis "Frank" Samuel Hodder
Born in Ringabella, Co. Cork in 1906.
Died 6th September 1943.
He took a short service commission in the R.A.F. in 1925, and was awarded a permanent position in 1928 and was stationed in Mosul and Aden.
At the outbreak of World War II he was stationed in France and was mentioned in despatches for brilliant work with the advanced Air Striking Force . In 1940 he became a Wing Commander and two years later a Group Captain. He was given command of a bomber station after being posted for engineering duties.
He played for Forest Hill House School, The Midland Bank, the R.A.F. XV in 9 Inter-service matches, as well as representing the Combined Services and playing country rugby for Kent.
He played for London Irish for 10 seasons, and took part in an Ireland trial.
An all-round sportsman he was also an accomplished cricketer who played for the R.A.F. for over 7 years. Whilst at school he scored a century and then took all 10 wickets.
Cricinfo
During the night of the 5/6th September 1943 Group Captain Hodder was on board a Lancaster bomber DV182 from RAF Syerston near Newark in Nottinghamshire where he was the Station Commander. The Lancaster was shot down by a night-fighter whose opening burst of fire killed the pilot and mortally wounded the Flight Engineer. A fire broke out, after which there was no further communication.
There was only one survivor.
Brockenhurst Memorial
Those killed are buried in Rheinberg War Cemetery.
Group Captain Francis Samuel Hodder
Pilot Officer Angus Alan Robertson (RAFVR)
Sergeant James Cunliffe (RAFVR)
Sergeant Frank Stanford Green (RCAF)
Sergeant Arthur Edwin Taylor (RCAF although actually from Idaho)
Sergeant Frederick William Tysall (RAFVR)
Flight Officer Ronald Reginald Shadbolt DFC (RAFVR)
Flight Officer G. Willat was interned in Camp L3, PoW No.2393.
He left behind a widow and 2 sons.
Flying Officer Owen Gerard HORRIGAN
Born 1914 in West Derby, Lancashire
Died 26th April 1940 Northern Jutland, Denmark
Owen Horrigan went to Douai school were he won the high jump at the schools sports day in 1930. Three years later he was played for the Waterloo for two seasons before joining London Irish.
In October 1935-36 he played 5 County Championship matches for Middlesex against Berkshire, Hampshire, Kent, Sussex and Somerset. He had the first of two Ireland trials in January 1936 (the other was in 1939). To top a good season he was also awarded the backs Honours Tie.
In March 1937 he joined the RAF as an Acting Pilot Officer on probation, where in April he was posted to No.5 Flying Training School at Sealand, Flintshire. The following December he was graded as a Pilot Officer. During 1938 he was posted to 102 squadron based in Yorkshire. Whilst there he played for Hull & East Riding RFC and was picked to play for Yorkshire against Ulster, Cumberland, Northumberland, Durham and Lancashire.
He was promoted to Flying Officer in July 1939, and was mentioned in despatches in February 1940. 102 Squadron were active from the first day of World War II, dropping leaflets over Germany from their Armstrong Whitley V's.
On 25th April 1940 he departed RAF Kinloss in his Armstrong Whitley N1383 (XID DY-H) destined to bomb the aerodrome at Aalborg in Denmark. At 02:44 hours all contact was lost and soon afterwards a German broadcast announced that a bomber had been shot down near Aalborg. It was later established that the aircraft had crashed on Store Vildmose 10km south west of Bonderslev and close to the town of Vadium, north of Aalborg.
Four of the Five crew died.
Flying Officer Owen Gerard Horrigan
Sergeant Norman Haithwaite
Sergeant John Francis Hayes
Aircraftman second class Cyril Cecil Whitley
The only survivor was Sgt. V.M. Barr who was interned in Camp 8B/L6/357 POW no.13100.
The 4 dead airmen were all buried on 28th April 1940, Cemetery of Vadum by a German Military Vicar.
The funeral: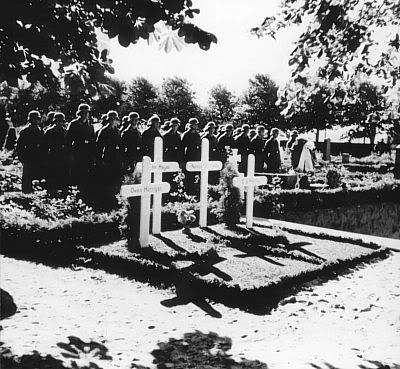 In Memory of
OWEN GERARD HORRIGAN
Flying Officer
39525
102 Sqdn., Royal Air Force
who died on
Friday 26 April 1940 . Age 26 .
Additional Information: Son of Edward Horrigan, and of Margaret Ursula Horrigan,
of Southbourne, Hampshire.
Cemetery: VADUM CEMETERY Denmark
Grave or Reference Panel Number: Coll. grave B.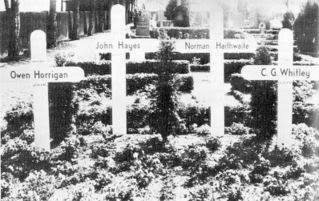 His Honour Henry Samuel RUTTLE
Born 10th November 1906
Died 11th September 1995
H.S. Ruttle was educated at Wesley and Trinity Colleges in Dublin. He played for Leinster in the 1927 inter-provincial championship. He was captain of London Irish for the 1935-36 season and played for Middlesex. He was a keen fly fisherman.
In 1929 he gained a BA in moderatorship in legal & political science and a LLB, a LLD in 1933 and a MA in 1950. In 1933 he was called to the Bar, Gray's Inn, practising in Common Law on the London & Western circuit.
Between 1940-45 he was a member of the Royal Air Force Volunteer Reserve. He reached the rank of Squadron Leader. In July 1940 he enlisted as a Pilot Officer on Probation, then became a Flying Officer the following year. He was promoted to Flight Lieutenant in 1942 were he transferred to the RAF legal branch and was the Deputy Judge Advocate in the Judge Advocates General Office.
After the war he resumed his practice at the bar.
1948-55 he was a member of the Church Assembly.
1957-59 was a member of the General Council of the Bar.
1958-59 was the Deputy Chairman of the Agricultural Land Tribunal.
1959-81 Circuit Judge.
1961 Justice of the Peace – Surrey.
1969-81 was a member of the County Court Rules Committee (Chairman 1978-81)
1973-81 joint editor of 'The County Court Practice'.
Wing Commander Patric Bernard 'Paddy' COOTE
Born 7th January 1910, Eton
Died 19th April 1941.
In 1925 Paddy Coote enlisted in the Royal Air Force as an aircraft Apprentice and was stationed at RAF Halton. In 1928 he was awarded the Sir Charles Wakefield Scholarship of £75 for an apprenticeship/cadetship at RAF Cranwell College. In July 1930 he was awarded the Sword of Honour for being the most outstanding student at Cranwell, and was awarded the Air Ministry prize for aero-nautical engineering after getting the highest marks.
He was an all round sportsman. In January 1928 he made his first appearance for the RAF Rugby Team against Cambridge University (he also played against the Royal Navy and the Civil Service that season). He also represented RAF Cadet School, Cranwell against Uppingham School in October. In March 1929 took part in putting the weight at the Service Cadets Athletics match for RAF College Cranwell against the Royal Military Academy, Woolwich and the Royal Military College, Sandhurst at the Aldershot Command Athletic Central Ground. He also played hockey for RAF College Cranwell.
In 1931 he won the RAF Squash Championship and was runner-up the next year (whilst carrying a rugby inflicted injury). In February 1931 he was a member of the RAF Bobsleigh team representing Great Britain in the Gold Cup at St. Moritz (this was the first time the RAf represented GB in a international bobsleigh championship), they lost to Switzerland. He again represented the RAF at rugby in 1931 playing against the Royal Navy (playing along side Douglas Barder), United Banks and the Army (playing along side F.S. Hodder of RAF Henlow and London Irish).
In July 1931 he took part in the RAF Lawn tennis Championship at the All-England Club, Wimbledon. He was knocked out in the second round in the singles and the doubles (his partner was Douglas Barder). In October 1931 he played Rugby for London v South Africa at Twickenham. London lost 30-3. The after match dinner took place at the Savoy, and the entertainment was a sound film of the match. In December 1931 and 1932 he represented the RAF in the Inter Services Squash Racket Tournament. In January 1932 he took part in the Ireland trail match playing for the Blues.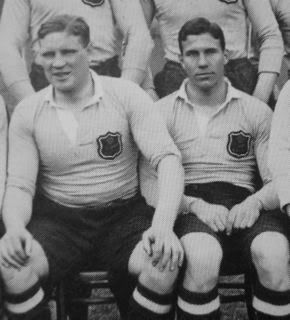 Paddy Coote sitting next to George Beamish in the RAF squad
In 1932 he again represented the RAF at rugby playing against Coventry, Pontypool and the Army, and in 1933 against Cambridge University, Northampton, Royal Navy, and the Army. In 1933 he played for East Midlands against Warwickshire and Leicestershire in the County Championship. On 1st April 1933 he won his only international cap for Ireland v Scotland (Ireland lost 8-6). Between1931-33 he played 27 times for Leicester.
In December 1933 whilst playing for Leicester away to Swansea in a tackle he suffered a serious neck injury and concussion, he was hospitalised for a few months at RAF hospital Uxbridge. He never played rugby again.
He was then granted a permanent commission as a Pilot Officer then got posted to a fighter squadron (No. 43) at RAF Tangmere. In September 1931 he was selected for a flying instructor's course and reached category A.1. in 1936.
He then returned to Cranwell as an instructor until 1933. In February that year he was transferred to the staff at the central flying school at RAF Wittering. December 1934 he was appointed Abjuntant of a bomber squadron. The following year he returned to flying instructors duty this time in the Middle East. He was promoted to Flight Lieutenant in January 1936. In February 1938 he was seconded to the Special Duty List of the British Military Mission in Eypgt. In October that year he was promoted to Squadron Leader. In October 1940 he was promoted to Wing Commander.
In February 1941 he served with 211 Squadron during the Greek Campaign. He arrived at Parammythia to setup the advanced operations wing. At the end of February 1941 as 'W' Wing leader flying an 80 Squadron Gladiator, he took part in an air battle over the Tepelene coast and was credited with shooting down an Italian Fiat CR42a Falco.
On 19th April 1941 he went as an observer to assess the progress of the German advance in a group of 6 Blenheims. The Blenheims didn't have a fighter escort, in the space of 4 minutes all 6 Blenheims were shoot down by 3 Messerschmit Bf109E's. The plane he was travelling in (L4819) crashed near the village of Trigonon. There were only 2 survivors from all 6 crews.
He was buried at the Phalron War Cemetry in Greece.
At the time of his death he was credited with 1 biplane victory.
On the 1st June 1935 he married Muriel Evelyn Elsmie at St. Peters Church in Ealing, they lived in Chobham. Muriel Coote Died on 5th December 1995. They had 2 daughters.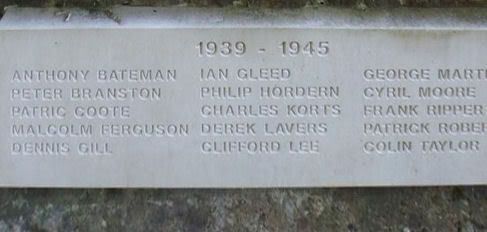 Woodham War Memorial, Woking
'Group Captain'The Reverend Denis Ivor COOTE CBE
Died 26th June 1985
Elder brother of Patric. Played for London Irish and Surrey during the 1930-31 season. He also competed for the RAF as a relay runner in various athletic championships.
In 1932 Sergeant D.I. Coote was granted a permanent commission as a Pilot Officer and the following year was promoted to Flying Officer. He married his first wife Sheelagh nee Bischoff at All-Saints church in Woodham, Surrey in April 1933, Patric was his best man. In 1934 he was based at RAF Calshot in Hampshire. 3 years later he was promoted to Flight Lieutenant, and became a Squadron Leader in April 1939. During 1940 he was mentioned in despatches. In March 1941 he was temporarily promoted to Wing Commander. In 1947 he was promoted to Wing Commander. In 1949 his wife gave birth to a daughter Caragh.
In 1951 Group Captain Denis Ivor Coote in the Kings Birthday Honours was awarded "to be Ordinary Commander of the Military Division of the said Most Excellent Order".
He served with the RAF for 33 years and retired as a Group Captain.
In 1968 he called for the end of the present methods of celebrating the Battle of Britain. He was the rector of St. James Church, Shaftesbury, Dorset preaching at the Battle of Britain service at Sherbourne Abbey, Dorset.
In 1973 he resigned as Rector of St. James. His wife Sheelagh died in 1978. He later remarried and gained 4 stepsons and a step daughter.
Lord GRANTCHESTER (Kenneth Bent Svenson-Taylor) CBE, QC
Born 18th August 1921
Died 12th August 1995
Kenneth Svenson-Taylor was a product of Westminster School. He got a war-time first in law at Christ's College, Cambridge, and later achieved a first in a post-was LLB.
He played rugby for his college and for London Irish. Later on he took up tennis and represented the Bar for over 20 years. He was also a keen skier and s devoted fisherman.
Between 1941 to 1945 he served with the Royal Artillery reaching the rank of Lieutenant, and saw action with the 11th Armoured Division in North-West Europe, landing in France shortly after D-Day in June 1944 and he ended up at Sylt in the Northern Friesian Islands in September 1945.
After the war he returned to Cambridge where he met his wife Betty (the eldest child of the football pools magnate Sir John Moores) who he married in 1947.
In 1946 he was called to the Bar by the Middle Temple, where he had earlier been awarded a Harmsworth Scholarship. He specialised in Company Law from 1951-1972. He attained his LLM in 1955 with a thesis on the legal cases arising out of the pre-revolution Russian bank credits.
He became a Silk in 1971. He succeeded his father as a Lord in 1975, the following year he became the Chairman of Licenced Dealers. He became a Director of Littlewoods in 1977. In 1980 he became the President of the Aircraft & Shipbuilding Industries Tribunal. He was awarded a CBE in 1985. In 1988 he became the Chairman of the Financial Services Tribunal.
He wife Betty was 14th in the Times Rich List of 2003.
Air Vice-Marshall (Frederick) Desmond Hughes CB, CBE, DSO, DFC & 2 Bars, AFC
Born 6th June 1919, Belfast
Died 11th January 1992
Educated at Campbell College, Belfast and Prembroke College, Cambridge were he was studying Law.He played on the wing for London Irish before the war. He joined the RAF from Cambridge University were he was also in the university's air squadron at Duxford. In September 1939 he attended RAF Cranwell College, the following month he was appointed to a Direct Entry Commission in the RAFVR as a Pilot Officer. He initially joined No.26 Squadron but with the need for more fighter pilots during the Battle of Britain led him to volunteer and he joined No.264 Squadron, flying Defiants. By the end of the Battle of Britain he was promoted to a Flight Officer.
Due to the design of the Defiants they were taken off day time duties, and he became a successful night fighter pilot and was promoted to a flight Lieutenant. In 1942 he was promoted to Flight Commander of No.125 Squadron flying Beaufighters, were he claimed the squadrons first victim. He took his pet dog 'Scuffy' on a sortie, dressed in flying overalls. Scruffy survived only to be killed by a WAAF truck driver shortly afterwards. On 11th August 1943 he managed to destroy 3 Junkers JU88's in one sortie. Later that year he moved to No.600 (City of London) Squadron based in North Africa. He won the first bar of his DFC in February and the second in September. He then served in Sicily and Italy. Later on in the year he was temporarily given the rank of Acting Squadron Leader and was transferred to HQ Fighter Command, later moving to HQ No.85 Group of the Tactical Air Force having been temporarily granted the rank acting Wing Commander.
In 1944-45 he was appointed to Squadron Leader of No.604 (The County of Middlesex) Mosquito Squadron and served in Britain and France operating as part of the Allied Expeditionary Force (they were the first night fighter unit based on the continent after D-Day. Towards the end of the war he returned to HQ Fighter command. He was awarded a DS) in March 1945
He finished the war credited with 18 ½ victories and the nick name of Hawk-eye Hughes (the half was a share of a JU88 downing).
After the war he stayed in the RAF and in 1946 he was appointed to permanent commission in the rank of Flight Lieutenant. Between 1946-1967 he was promoted a number of times until he reached the rank of Air Vice Marshall. He served in various places such as the RAF Staff College in Bracknell, RAF Cranwell, RAF Geilenkirchen, Coastal Command and Air Officer of Scotland & Northern Ireland. In 1963 he was appointed ADC to The Queen. In 1974 he was appointed the Deputy Commander of the British Forces in Cyprus.
He retired from the RAF in June 1974.
He was a Director of the Trident Trust between 1976-78. In 1982, he was made Honorary Air Commodore of No 2503 Squadron, Royal Auxiliary Air Force Regiment . In 1983 he became the Deputy Lieutenant of Lincoln.
In 1990 he marched with the Battle of Britain crews past Buckingham Palace to commemorate the Battle's 50th Anniversary.
His citations:
Distinguished Flying Cross

won 12th March 1941 shoot down a HE111 flying a Defiant.

Flying Officer Frederick Desmond Hughes RAFVR (+ Distinguished flying medal for Sergeant Fred Gash No.264 Sq).

Flying Officer Hughes and Sergeant Gash, as Pilot and air gunner respectively, have participated in many engagements against the enemy, both by day and night. During these flights four enemy aircraft have been destroyed, of which two were shot down at night.
Bar to the Distinguished Flying Cross

April 1943 London Gazette

"Acting Squadron Leader Frederick Desmond HUGHES, D.F.C. (74706), Royal Air Force Volunteer Reserve, No. 600 Squadron.

Flying Officer Lawrence DIXON (116698), Royal Air Force Volunteer Reserve, No. 600 Squadron.

As pilot and observer respectively, Squadron Leader Hughes and Flying Officer Dixon have flown together on many night sorties in operations in North Africa. During these flights they have destroyed 3 enemy aircraft. Squadron Leader Hughes and Flying Officer Dixon have displayed great skill and keenness, setting a praiseworthy example."
Second Bar to Distinguished Flying Cross

September 1943 London Gazette

Acting Squadron Leader Frederick Desmond Hughes DFC (74706) Royal Air Force Volunteer Reverse, No.600 Squadron. Squadron Leader is a brilliant night fighter whose determined efforts have met with further successes. Since being awarded a bar to the Distinguished Flying Bar he has destroyed 7 enemy aircraft. His total victories at least 16, of which 13 have been destroyed at night. Squadron Leader Hughes is a highly efficient flight commander and his meritorious work has been reflected in the efforts of his flight which has earned notable successes.
Distinguished Service Order

March 1945 London Gazette

Acting Wing Commander Frederick Desmond Hughes, DFC (74706) RAFVR, No 604 Sqn. Wing Commander Hughes has displayed the highest standard of devotion to duty throughout a long period of operational flying. His outstanding keenness, great skill and unsurpassed determination have been responsible for the destruction of a good number of enemy aircraft. Among his own successes Wing Commander Hughes has destroyed 18 enemy aircraft.
Although not strictly a war hero but I'm sure you'll agree he did his bit:
Neil Michael DAUNT O.B.E.
Born 23rd October 1909 in Hastings
Died 26th July 1991 in Ipswich
Michael Daunt was one of the test pilots for Britain's pioneer gas turbine aircraft the Gloster Whittle E28/39, which in 1941 became the first aircraft in Britain and the USA to fly under jet-propulsion. He later became the Chief test pilot for the Gloster Meteor twin-jet fighter which entered service in 1943.
He was probably the first ever person to be sucked into a jet engine, luckily for him there was no front end compressor blades that you can see on modern jet engines. Equally lucky, his wide shoulders prevented him from entering the nacelle. Using the word lucky again, he kept his mouth shut otherwise his lungs would have instantly emptied of oxygen. After this accident the Meteor was fitted with a grill called the "Daunt defender".
He was an undergraduate of St. Catherine's College, Cambridge. He was accepted for the university's air squadron at Duxford, were he learned to fly. He failed to reach the required academic standard (he was reading engineering) and was dropped.
In 1930 he joined the Royal Air Force on a short service commission and served with 25 Squadron at Hawkinge, Kent. The unit was equiped with Hawker Fury bi-planes , and were a 9 strong aerobatic team (which were later to become the Red Arrows).
He was a wing three-quarter and represented the RAF at rugby (v the Army in 1931), and played for London Irish during the 1933-34 season.
In 1935 he left the RAF and joined the De Havilland Aircraft Company at Hatfield as a flying instructor. The following year he became a test pilot for Hawker were he met the Managing Directors daughter who he later married. In 1937 he became the deputy test pilot for Gloster. He took charge of the test programme after the chief test pilot Jerry Sayer died in a flying accident.
In 1942 he demonstrated the E28/39 to Winston Churchill. During 1943 while flying an experimental Folland jet, the aircraft lost its tail during a dive. He was thrown through the cockpit roof. He was saved by his parachute, but had no recollection of pulling the ripcord. His was almost strangled by his harness as well as broking a collar bone and a wrist. He retired from test flying in 1944 after miraculously landing a Meteor that had suffered a comprehensive compressor failure in mid-air.
He was awarded an OBE in 1945 Birthday Honours for services to test flying.
After the war he had a spell farming, became a sales engineer, and for 10 years was chief technician of the kidney unit at Birmingham's Wordsley Hospital.
Lieutenant Colonel Charles James REIDY
Born 8th July 1912, London Died 15th July 2004, Birmingham
Charles Reidy was educated at Stonyhurst College and Cambridge University. He was one of four Reidy brothers who played for London Irish in the 1930's. He was the London Irish vice-captain in the 1936-7 season and later that season he played for Ireland as a second row forward against Wales in Belfast (Ireland won 5-3). He were awarded the Forwards Honours Tie for the 1934-5 season (two of his brothers won the tie either side of him).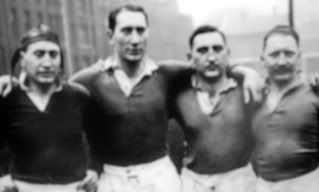 Charles Reidy 2nd left with his 3 brothers (Joseph Patrick, W.F. & J.J. (Sorry not sure who is who!))
Before joining London Irish in 1933 he played for 2 seasons at Catford Bridge RFC and county rugby for Kent in the 1932-3 season. He won the putting the weight competition at the first AAA junior championship at Stamford Bridge in 1931 as a member of South London Harriers. He was also a leading discuss and javelin thrower and boxed as a heavyweight representing Belsize Boxing Club. In 1936 he played for Leinster against Munster. The next season he played for W.W. Wakefield's XV v Twickenham & District at the Exiles Ground, Richmond Road, Twickenham. In October 1938 he played for an International XV v Old Cranleighans.
He was suffered a head injury whilst serving in Tunisia as a Captain in the army during the Second World War resulting in him losing an eye and his sense of smell.
After the war he went to Cambridge University (whilst staying in the army in the education corp) were he won a half blue in discuss throwing. Charles Reidy was one of the most prominent figures in the development of the hammer event in the UK in the 1940s and 50s. He used hammer throwing as a means of helping him regain strength into his upper body, arm and leg muscles. In 1943 he built his (and the world's) first cement circle in order to maintain his physical improvement with a better quality, more consistent throwing surface. By the end of the 1940s the cement circle was more commonly in use, but it was not until 1953 that a cement circle was used at the White City.
He became a fine hammer thrower, winning the Southern title in 1946 (the first after the end of the War) and 1952. He was Irish hammer champion in 1953, and was one of the founding figures in the Hammer Circle ('The Association of British Hammer Throwers').
In the early 1950's he beat numerous hammer throwing records in the Army Athletics Championships, and in 1953 won the hammer throwing competition in the Services Athletics Championship at Uxbridge with a service record of 163ft 11 ½ inches. His best ever throw was 168 foot thrown in Dublin. Within a few days of taking of taking up a new army appointment in Mayala he set a Malayan hammer record. He rose to the rank of Lieutenant-Colonel.
In 1973 Colonel C.J. Reidy presented a plate (The CJ Reidy Plate – reunion handcap competition) for the winner of the annual reunion handicap competition. Decided by greatest improvement, or nearest to, the seasons best throw.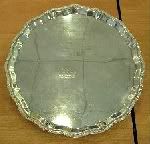 The CJ Reidy Plate
Charles Reidy went on to be the President of the Hammer Circle, as well as a respected writer about the sport.
He passed way in a nursing home in Birmingham and is buried in the Quinton Cementery.
A big thanks to Ian Tempest of the Hammer Circle for his help
Pilot Officer John WOODS
According to a Passion in Exile John Woods died in an accident during the Second World War. The only John Woods that I can find that seemed to have lost his life in the UK without a story attached is a Pilot Officer John Woods, RAF no.119842 who died on the 20th August 1942 aged 31. He was a member of No.296 Squadron – Glider Pilot Exercise Unit based at RAF Ringway (now more commonly known as Manchester International Airport). He was a volunteer (RAFVR).
From what I can find on the internet the squadron where involved in exercises where the 3 Squadrons had to tow General Aircraft Hotspur gliders to Ireland to train Irishmen of Airborne Division.
John Woods played for the London Irish first team from 1937 to 1939. He was married to Lilian Moira Woods from who passed away in February 1978.
He is buried at Morecambe & Heysham (Hale Carr) cemetery.
John Christopher DALY
DOB: 12th December 1917 Cobh
Died: 10th October 1988 Chertsey
In 1948 when John Christopher Daly scored a try against Wales at Ravenhill, Belfast, Ireland became Triple Crown champions for the first time since 1898-1899.
John Christopher (also known as Jack or John or Chris Daly started playing rugby for Cobh Pirates, he then played for Cork Constitution and London Irish. He also played for the Barbarians, Munster and Ireland before heading off to play rugby league for Huddersfield and Featherstone Rovers as well as playing for a British Empire XIII and capped 7 times for the Other Nationalities Team which played between 1950-1953.ending up playing in a Challenge Cup final at Wembley Stadium.
Former teammate Des O'Brien in Peter O'Reilly's book "The Full Bag of Chips; Ireland and the Triple Crown. He joined the British Army and marched right across North Africa with Montgomery. Before the war he played only for fun with London Irish Thirds but, as he departed for combat, he promised: 'When I come back I'll be picked for Ireland.' All through the war he had to carry this heavy wireless equipment on his back, so his upper body strength became incredible. When John ran on to the field he used to do a double somersault. Before internationals he would do double back-somersaults to confirm his fitness."
He served with the London Irish Rifles in North Africa & Italy. He was involved in the siege at Monte Cassino.
I have added Reverend Robin Roe's Military Cross citation to his interview it can be found
viewtopic.php?p=2707#2707
Previous War Hero's posting can be found at
viewtopic.php?t=1559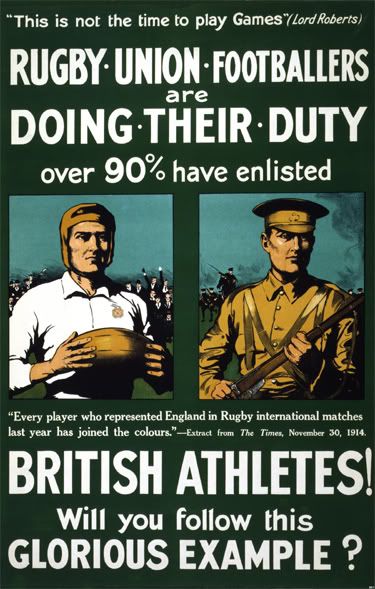 RFU online exhibition:
Gone But Not Forgotten
Commonwealth War Graves Commission:
Rugby's War Dead leaflet
Commemoration of Commonwealth Sportsman and Women